Know your award: Fair Work releases interactive tools to support workers
The Fair Work Ombudsman (FWO) has launched new online resources to help fast food and restaurant owners and employees better understand their workplace entitlements and obligations.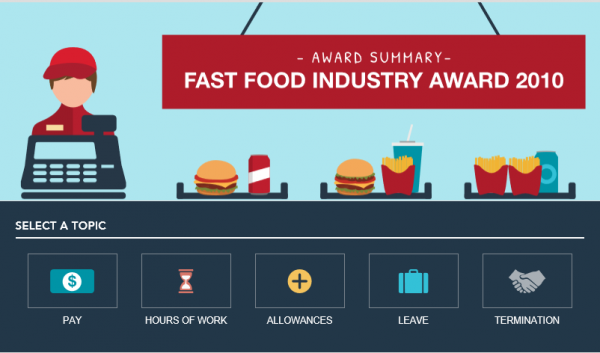 The easy-to-use interactive tools allow workers covered by the Fast Food Industry Award 2010 and Restaurant Industry Award 2010 to access tailored information on a range of topics such as pay, hours of work, allowances, leave, and termination.
This is a move by FWO to address the widespread problem of underpayment and non-compliance in the hospitality industry.
'We have no tolerance for employers who think they can pay unlawfully low rates of pay to young or migrant workers,' says Fair Work Ombudsman Sandra Parker.
Underpayment (or 'wage theft') is an issue that disproportionately affects migrant workers, such as international students and working holiday workers, who are more vulnerable to exploitation due to the temporary nature of their visas.
FWO has conducted several intelligence-led audits of businesses suspected of underpaying workers or denying other workplace entitlements over the past year. These audits have been held in popular food precinct areas known for employing high numbers of international students.
In July 2018, a FWO audit recovered almost $200,000 for workers in an audit of 67 restaurants, cafes and fast food businesses in the popular Glebe Point Road food precinct.
In May 2019, Fair Work Inspectors completed audits of around 80 businesses in the university suburbs of Geelong.
In June 2019, FWO audited almost 500 businesses across Albury-Wodonga, Ballarat and Wollongong, finding that nearly half were not meeting Australian workplace laws. This audit recouped a total of $330,000 for 725 underpaid workers from takeaway food shops, cafes and restaurants, retail businesses, pubs and bars.
Redfern Legal Centre strongly supports the Fair Work Ombudsman's push to provide hospitality workers with easier access to information about their workplace rights and obligations. All workers should be informed about their award and work entitlements.
Learn more about your award
Read more about workplace rights and obligations here
Access FWO's new interactive award resources for restaurant and fast food workers
See also: Free employment law advice for international students