Your Body, Your Choice honoured at 2019 NSW International Students Awards
Your Body, Your Choice, a groundbreaking sexual assault resource for international students, was honoured with an award at the 2019 NSW International Student Awards.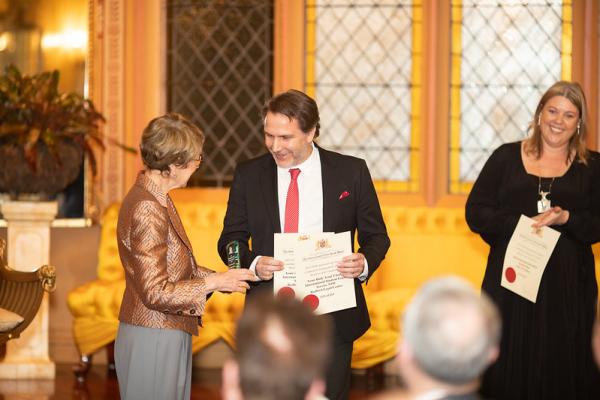 Her Excellency the Hon Margaret Beazley AO QC; Sean Stimson, RLC International Student solicitor; and Anouschka Inglis, Strategy Advisor, City of Sydney at the awards ceremony, Government House NSW.
Redfern Legal Centre (RLC) partnered with City of Sydney, with support from Study NSW,  to produce the multi-language factsheet in late 2018. 
The resource was created in response to the casework findings of RLC and a series of forums led by City of Sydney, which brought together key stakeholders to discuss sexual assault and international students.
Informed by consultations with Rape Crisis NSW, NSW Health Sexual Assault Service and NSW Police, Your Body, Your Choice aims to address the fact that many international students do not know where to seek help about a sexual assault incident, or are afraid to access support. 
"This award is important recognition from government about the critical need to support all students who have experienced sexual assault," head solicitor at RLC's International Student Legal Service NSW, Sean Stimson said.
"We were pleased to partner with City of Sydney and Study NSW to deliver the important message to international students that sexual assault is a crime which people should not be afraid to report."
Your Body, Your Choice is available in 11 different languages and contains information to support students who have experienced sexual assault, including key messages specifically tailored to international students.
The resource highlights the many avenues international students can take to seek support for sexual assault safely and confidentially. It steps students through the law, outlining broad definitions of sexual assault behaviours and provides key contacts for free counselling, legal, medical and interpreter services.
"International students bring so much to our city, and it's our responsibility as a community to ensure their safety while here. We're proud to have been able to support this groundbreaking resource and provide essential support to students who may not otherwise know where to seek help," Lord Mayor Clover Moore said.
Your Body, Your Choice was acknowledged in the NSW International Student Community Engagement Awards, which recognise outstanding contributions of organisations supporting international students across the categories of Education Providers, and Business and Community.
Hosted by Study NSW, the NSW International Student Awards are an annual event celebrating international students' contributions to NSW society and the benefits of international education to the broader NSW community. The awards were presented by the Governor of New South Wales, Her Excellency the Honourable Margaret Beazley AO QC.
Other Business and Community finalists in the 2019 International Student Awards were the Global Trade Accelerator Program (Eliza Gao and Shi-Shi Troung – Practera) and the International Education Plan (Anouschka Inglis – City of Sydney).
Your Body, Your Choice is available in print and online, and is being circulated to international student education providers and support organisations.
Download the multi-language factsheet here.
For additional information, and requests for hard copies, contact RLC's International Student Service NSW (www.rlc.org.au, info@rlc.org.au), City of Sydney or Study NSW (a dedicated unit within the NSW Government Department of Industry).