Webinar: COVID-19 and Your Visa
This RLC webinar examines common visa issues for international students during COVID-19 and where to get visa advice.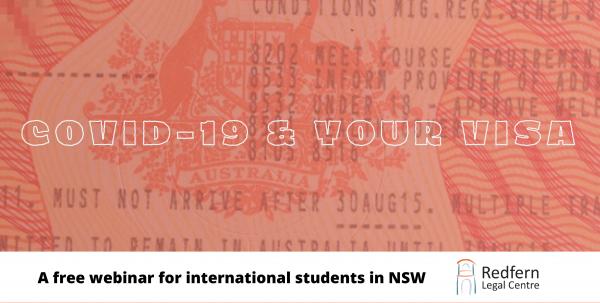 Many international students in NSW are experiencing visa issues during the COVID-19 pandemic, and have questions about visa cancellations and extensions.
This discussion led by Sean Stimson, International Student Solicitor at Redfern Legal Centre's international Student Legal Service NSW, features three migration law experts and covers topics including:
How different visa types work during COVID-19
Advantages and disadvantages of visa types 485, 408 & Bridging Visa E
How to apply for a deferral of studies on compassionate or financial grounds
What to do if you've completed your studies but cannot return home
Where to get visa advice
Onshore and offshore visa applications
SPEAKERS
1. Melanie Macfarlane, CEO and Principal Migration Consultant. View slides. 
2. Michal Sestak, Education and Migration Consultant. View slides.
3. Ursula Ng, Migration Consultant. View slides.
COVID-19 and Your Visa was held Thursday 15 October 2020. Watch the webinar here.
This webinar is not a substitute for legal advice.
Redfern Legal Centre has a free migration advice service for international students, providing advice about student visas only.  The guest speakers in this webinar also have their own migration agencies that provide advice on a range of migration issues and visas for a fee. Migration agents can also be found by contacting the Migration Agents Registration Authority (MARA): https://www.mara.gov.au/
International students in NSW with legal questions about student visas or other legal issues can contact RLC's International Student Legal Service NSW at www.rlc.org.au/contact or by phoning 02 9698 7277 for free legal advice and referrals. If you need an interpreter, call using the free translating and interpreting service on 13 14 50. 
See also
COVID-19 and Your Visa factsheet  
For more legal tips, download My Legal Mate, RLC's free legal app for international students in NSW. Available in 7 languages.