Update on Millers Point, Dawes Point, Rocks sell off
In early 2014, the NSW Government announced plans to sell off its public housing stock in Millers Point, Dawes Point and the Rocks, and relocate those tenants out of the area.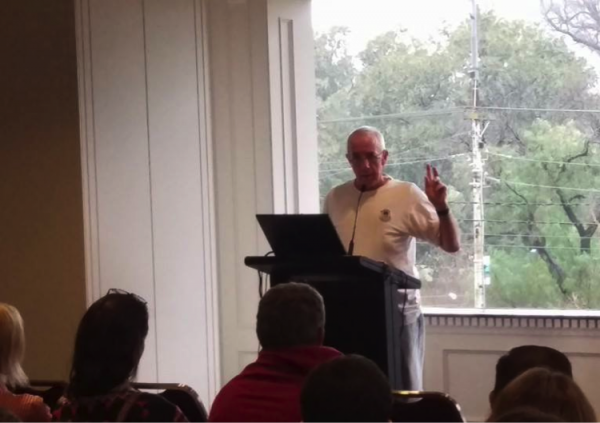 Advocates of RLC's Millers Point service recently attended the National Association of Community Legal Centres Conference in Melbourne with resident and resident group representative Barney Gardner (photo: courtesy of The NSW Tenants' Union)
The sale plan includes the landmark Sirius building, the block of 79 units famous for its brutalist design nested at the foot of the harbour bridge, purpose built to be used as public housing for the elderly and those with disabilities.
A large number of tenants are over the age of 65, and rely on neighbours, as well as hospitals, doctors, public transport and other support services close to the city. Many of the tenants have lived all their lives in the area and have strong community connections.
Although the NSW Government has previously indicated it intends that relocation and the sale of all properties be completed by March 2016, at least 100 tenants remain in the area, and fewer than 40 properties have been sold to date.
The Government has so far announced just one set of new properties to be built with the proceeds of the sale: a block of ten units at Lurnea, in Sydney's far West.
RLC, with the support of City of Sydney, has been running an advice and advocacy service for tenants affected by the relocation. Since the service began in May 2014, our advocates have assisted over 160 tenants, providing advice about their rights, attending interviews and inspections with Housing NSW, and helping to prepare correspondence and appeals.
Last year RLC lodged a complaint with the Ombudsman about a number of Housing NSW's procedures around the sell-off.
Among the complaints was the omission of information given to tenants by Housing NSW about tenants' right to appeal relocation decisions. The Ombudsman subsequently upheld RLC's complaint and made recommendations for change in line with the issues raised. 
Advocates assist tenants and run regular advice sessions at the Sirius building and the Harry Jensen Community Centre in Millers Point on Thursdays.
If you are a social housing tenant of Millers Point, Dawes Point or the Rocks and you need advice you can reach our advocates on 9698 7277 or 0478 192 450.