Safe as Houses? From Millers Point to Waterloo
A free community panel discussion on public housing redevelopment, relocation and displacement.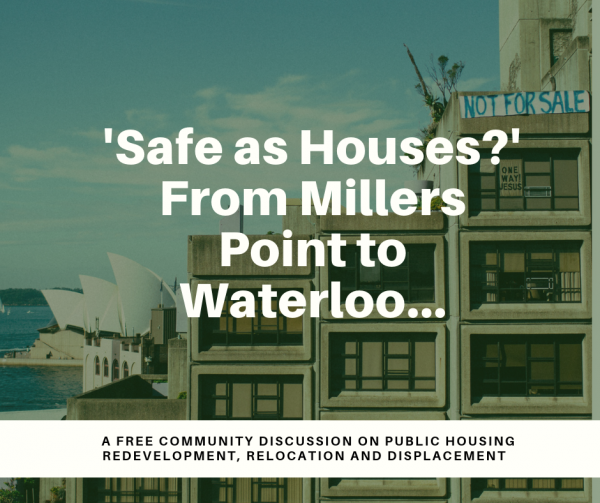 Image: Production still from The Eviction (2018), directed by Blue Lucine. Photo by Nic Porter.  
Across Sydney, communities are facing upheaval and displacement in the face of public housing redevelopment.
This free community discussion will bring together a panel of experts including residents and support workers to share ideas and strategies, asking what can be learnt from the experience of residents in Millers Point?
Using Blue Lucine's groundbreaking documentary, The Eviction, as a starting point, the panel will explore:
What can be done to support people facing relocation in Waterloo and other areas?
How do we ensure that residents' voices are heard?
How can we protect people's mental health and wellbeing?
How do we encourage a more respectful process with less disruption to communities?
Details
'Safe as Houses?' From Millers Point to Waterloo: A panel discussion 
Tues 11 June, 6pm-7.30pm 
Redfern Town Hall, 73 Pitt St, Redfern
Registration is free. RSVP for catering purposes: BOOK NOW.
Speakers
Nicole Kennedy is the Tenancy Coordinator at Redfern Legal Centre's Inner Sydney Tenancy Advice & Advocacy Service (ISTAAS). Nicole will discuss RLC's insights drawn from our support of public housing tenants across Sydney and highlight the work of our new Waterloo Relocation Tenants' Service, funded by City of Sydney.
 
Barney Gardner is a long-term public housing resident and prominent activist, who was born in Millers Point in 1949 and has lived there all his life. In 2014, he was told along with 592 friends and neighbours that they would have to move out of their homes and the neighbourhood because the State LNP was 'socially cleansing' Millers Point, Dawes Point and The Rocks of public housing. He has participated in numerous campaigns, interviews and research projects on inner-city gentrification, and featured in Blue Lucine's 2018 documentary, The Eviction.
 
Professor Alan Morris is a research professor in the Institute of Public Policy and Governance at the University of Technology, Sydney. He is a leading researcher in the area of urban and housing studies and has written extensively on this topic for over 20 years. His most recent book (2018) is Gentrification and Displacement: The Forced Relocation of Public Housing Tenants in Inner-Sydney.

Martin Barker is a Tenants' Advocate at the Inner West Tenants' Advice & Advocacy Service at Marrickville Legal Centre. Martin was seconded to Redfern Legal Centre to provide legal support and assistance to tenants being relocated as part of the FACS Housing sales of properties at Millers Point. He will share observations drawn from RLC's Millers Point Relocation Service, which advised every tenant evicted from Millers Point.
 
Blue Lucine is a writer, director and an all-round troublemaker. Blue enjoys the challenge of telling factual events in a creative way. She has worked as a video journalist, a news editor and has a special interest in making factual television and social impact documentaries. Her most recent documentary film, The Eviction (2018) tells the story of public housing residents in Millers Point fighting to save their homes.
The free community event is presented by Redfern Legal Centre. For information on our Inner Sydney Tenancy Advice & Advocacy Service (ISTAAS) and our Waterloo Relocation Tenants' Service, phone (02) 9698 5975 or visit https://rlc.org.au/our-services/tenancy-housing