RLC providing community assistance with NSW Stolen Generations Reparations Scheme
In December 2016, the NSW government announced a long-awaited compensation package for members of the Stolen Generations.
The Stolen Generations reparations payment scheme commenced on 1 July 2017 and will run for the next five years, offering one-off ex-gratia payments to survivors.  Applicants may also be eligible to receive a one-off funeral assistance payment.
Redfern Legal Centre is providing advice to community members interested in making a claim, and assistance with completing and lodging the application form.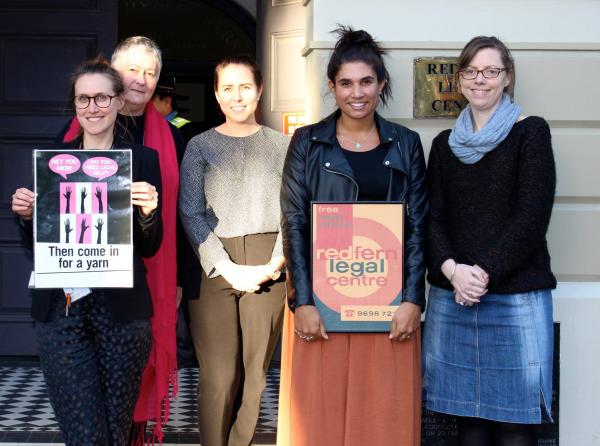 Above: RLC staff and volunteers are proud to stand with the community, and are ready and willing to provide advice as to how this groundbreaking scheme can be accessed.
The reparations are an acknowledgement of the enduring intergenerational trauma caused to Aboriginal and Torres Strait Islander people forcibly removed from their families, or placed in the care of the Aboriginal Protection Board, or its successor the Aboriginal Welfare Board. These Boards covered the period of 1909 to 1969 under the Aboriginal Protection Act 1909, repealed in 1969.
Claims must be lodged with Aboriginal Affairs NSW, who are administering the scheme. It is important to note that financial compensation provided under the scheme will be ex-gratia payments and will not impact on any other claims people may be able to make, such as claims arising from abuse in care.
People applying for ex-gratia payments under the scheme may also require advice around the impact on Centrelink, or other benefits, subsidies, or other liabilities they may have. RLC understands that although Centrelink has said it will not treat the payment as income when assessing benefits, successful applicants to the scheme will still need to notify Centrelink about any payment received.
RLC encourages all interested community members to contact us to learn more.  Inquiries can be made in person, by dropping in to 73 Pitt St Redfern any time between the hours of 9–6pm, or by phoning (02) 9698 7277.
People seeking advice from RLC about the scheme can also use this opportunity to discuss other everyday legal issues they might have.