NSW police powers, fines and COVID-19: resources and factsheets
RLC's police accountability practice has produced a number of resources about changes to COVID-19 public health orders in NSW, and information on payment and review options for people who have received penalty notices and court fines.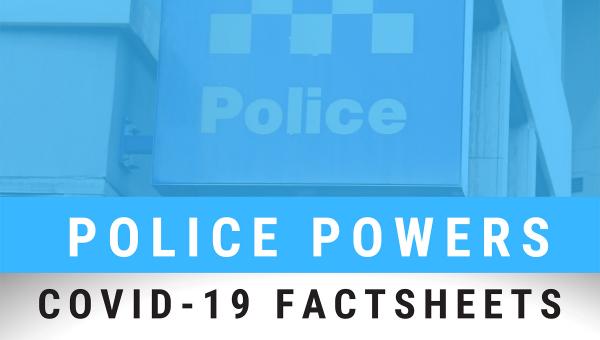 COVID-19 public health laws in NSW
NSW's COVID-19 public heath orders are complex, and continue to evolve rapidly. It's important to know your rights and responsibilities, and to stay informed about ongoing changes. 
It is an offence to not comply with NSW public health orders outlined in this factsheet.
Please note: this factsheet is for people currently in lockdown in Greater Sydney, and does not include the rules for those living outside of Greater Sydney.
Download factsheet: 
Lockdown laws: NSW COVID-19 rules and Police Powers [this factsheet is currently unavailable]
Dealing with fines
There are two types of fines: penalty notices and court fines. Penalty notices are issued by an authorised officer such as a parking inspector, ranger or transit officer. Court fines are imposed by a judge or magistrate.
There are different rules for each type of fine.
Tip 1: Deal with fines promptly.
Tip 2: If you don't pay a fine, the fine amount will be increased and your licence could be suspended.
Tip 3: Your options for appealing a fine reduce as the fine becomes more overdue.
Download factsheets: 
COVID-19 fines
If you have received an on-the-spot COVID-19 fine (also known as a penalty notice) there are a number of options for dealing with the fine:
pay the fine in full or make arrangements to pay by instalments
seek an internal review via Revenue NSW
appeal the fine to court
apply for a Work and Development Order (WDO)
seek a write-off of the fine.
Redfern Legal Centre is providing free legal advice to people in NSW who have received a COVID-19 fine. Contact us here.
Download factsheet: 
See also:
Webinar: Traffic, parking and COVID-19 fines
Have you received a fine? Want to assist clients to deal with fines? Learn about your legal options in this presentation from Redfern Legal Centre solicitors:
David Hofierka, Credit and Debt Solicitor, Redfern Legal Centre. View slides
Samantha Lee, Police Accountability Solicitor, Redfern Legal Centre. View slides
Webinar facilitated by RLC Principal Solicitor, Alexis Goodstone. 
Further info:
Fines Act
The information contained on this page is not a substitute for legal advice. If you need legal help, contact Redfern Legal Centre or your local community legal centre.