My Legal Mate: Leading the way on international student wellbeing
Macquarie University has become the first tertiary institution to sign up for My Legal Mate, an innovative new mobile app offering on-the-go legal advice to international students in NSW.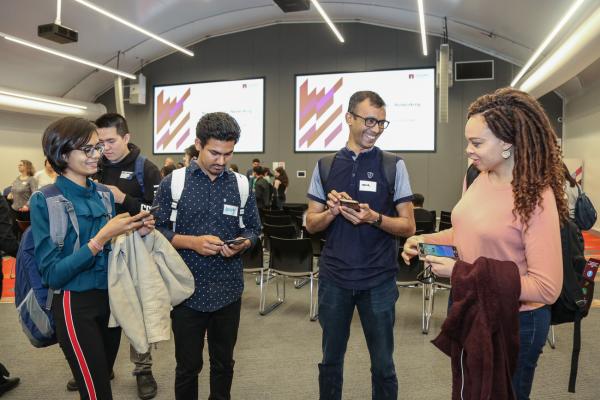 Devised by Redfern Legal Centre, My Legal Mate is an Australian first. The app uses interactive video in seven languages to provide international students with instant support on urgent legal problems like underpayment at work, accommodation issues and sexual assault.
Using over 3000 pieces of multi-language video and a simple question and answer format, the app breaks down complex legal information into easy to understand, personalised support pathways.
The app was formally launched on campus at Macquarie University on 11 October, and over 400 international students have already signed up.
"International students studying away from home can face a variety of urgent legal issues," Redfern Legal Centre CEO, Joanna Shulman said. "Many students lack knowledge about the law in Australia and simply don't know where to get help."
"With My Legal Mate we wanted to expand the support that Redfern Legal Centre's International Student Legal Service NSW already provides, by offering international students an instant connection to essential legal information, available 24-hours-a-day.
"The app is designed to empower international students to take control of legal problems as they arise. We're proud to be working with Macquarie University as our first university partner, enhancing the wellbeing of its vibrant international student population with accessible and culturally appropriate legal information," Ms Shulman said.
"The partnership between Macquarie University and Redfern Legal Centre is a direct response to the fact that 1 in 3 international students encounter legal issues whilst studying in Australia," Gail White, Executive Director – Student Engagement and Registrar at Macquarie University said.
"My Legal Mate is one of the many services, resources and tools provided by Macquarie University's Student Success Network. This app, and our other student support services are designed to help international students adjust seamlessly to their studies, and to deliver the best experience possible during their time at Macquarie University," Ms White said.
My Legal Mate was created with support from Study NSW, Fair Work Ombudsman and City of Sydney, and built by education technology provider, Practera. My Legal Mate is provided to Macquarie University on a subscription basis and is available to students free-of-charge.
The app is available in seven languages: English, Chinese, Hindi, Portuguese, Korean, Thai and Vietnamese. Students will be able to register for My Legal Mate on enrolment, providing confidential legal information and support right throughout their degree.
Education providers can learn more about the app and request further information here.