Local filmmakers reflect on the future of public housing
Two groundbreaking new Australian films screened recently in Sydney exploring the impact of public housing redevelopment on the future of our city. 

The Eviction.   
In 2014, the NSW state government announced the sell-off of public housing in Millers Point, which would ultimately lead to the eviction of an entire community of public housing residents. The Eviction tells the story of Millers Point tenants fighting to save their homes, and provides critical reflections on the impact of public housing policy on local communities.
Produced by Australian director Blue Lucine, this thought-provoking, and ultimately heartbreaking film premiered at the Antenna Documentary Film Festival in October 2018, where it received a standing ovation. It examines how the sell-off of high-value public housing has deeply and irrevocably affected the lives of individuals, many of whom have been part of the Millers Point community for generations.
The film highlights the work of RLC's Millers Point Advice Service, funded by City of Sydney to support tenants. RLC was proud to assist in the development of this film, auspicing a grant to fund its production.
In November, The Eviction was shown at NSW Parliament House. This special screening was hosted by Alex Greenwich, Member for Sydney, Jenny Leong Member for Newtown and John Graham MLC, followed by discussion by a panel discussion which asked, what sort of future do we want for our city?
More screenings of The Eviction will follow in 2019, including a community event co-hosted with Redfern Legal Centre.
There Goes Our Neighbourhood. ABC TV.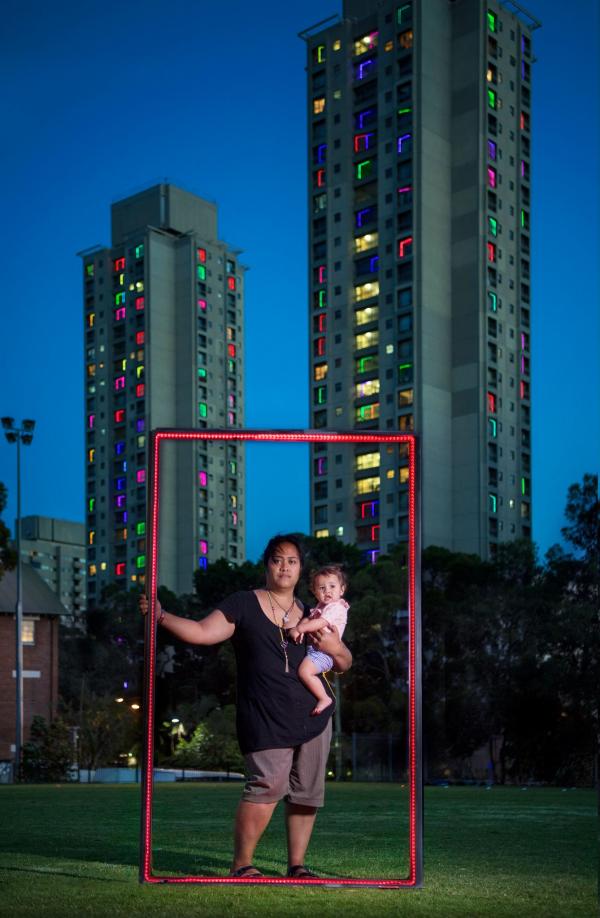 There Goes Our Neighbourhood depicts a powerful protest initiated by public housing residents of Waterloo, who turned their homes into a massive high-rise artwork to shine a light on the forced relocation of their community.
Developed by ABC and Create NSW, the film documents the residents' journey to create the inspiring #WeLiveHere2017 light installation, made in response to the large-scale redevelopment set to dramatically change the fabric of the Waterloo community.
As the demand for public housing increases and the housing crisis dominates the press, this illuminating documentary reveals the human face of public housing, and the power of art and community to protest and transform. 
There Goes Our Neighbourhood screened on ABC TV, 9.20pm, Tuesday 20 November 2018 and is available on iView.