Celebrating change: RLC's 2020 Annual General Meeting
At the Redfern Legal Centre (RLC) AGM, Board and staff paid tribute to outgoing Board member Amy Monro, who stepped down after 8 years as Chair.
Kerry O'Brien, was welcomed as Amy's successor, and is the first Koori Chair of the RLC Board.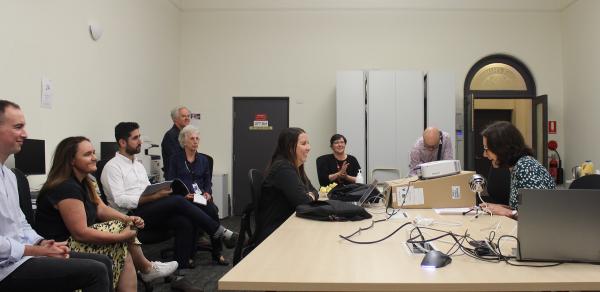 Amy Munro (far right) opens proceeding at her final RLC Board meeting as Chair. Pictured (far left): incoming RLC Chair, Kerry O'Brien.
Amy Munro has served RLC for almost 20 years. She started at RLC as a volunteer in 2002, moving on to become a Tenants' Advocate with the Inner Sydney Tenants' Advice and Advocacy Service and the Project Manager of the Share Housing Survival Guide.
Amy was elected to the Board in 2010 and became Chair of the Board in 2012. 
Addressing the AGM following the appointment of Amy's successor, solicitor Kerry O'Brien, RLC CEO Joanna Shulman paid tribute to Amy's deep compassion and care, stating:
Her ability to elicit, listen to and bring together a range of views into a carefully deliberated decision, often on quite difficult issues is remarkable.
Over the last 8 years in particular since she has been Chair, I have relied on her heavily for her patience, great wisdom, enormous support and clear direction.
She is a great leader and a good friend and I will miss her greatly in this role.
Amy's deep compassion for our community and the care which she brings to every decision has resulted in the centre going from strength to strength under her leadership. She will be greatly missed. We are delighted to see another dedicated RLC Board Member, Kerry O'Brien, stepping up to take Amy's place. 

– Joanna Shulman, RLC CEO.
In addition to farewelling Amy and welcoming Kerry, RLC launched our First Nations artwork and new Theory of Change and Strategic Plan – which includes strategic goals to support First Nations people.
See also
RLC Theory of Change and Strategic Plan 2020–2025