First Nations artwork for RLC unveiled during NAIDOC Week
In 2019, Redfern Legal Centre (RLC) received a grant from City of Sydney to commission an original First Nations artwork.
During NAIDOC Week 2020, the work was officially launched at RLC's premises in Redfern Town Hall with the artist, Sharon Smith, and RLC staff and board in attendance.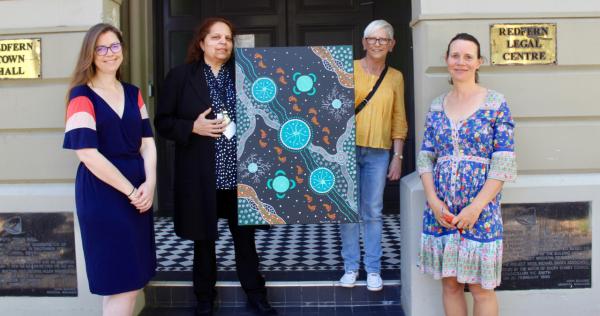 L-R: RLC Chief Operating Officer, Jacqui Swinburne, Aboriginal and Torres Strait Islander Legal Access Worker, Maureen Randall; Boomalli artist, Sharon Smith; RLC CEO, Joanna Shulman.
The RLC First Nations artwork project was led by our Aboriginal Legal Access Worker, Maureen Randall, who first joined RLC in October 2019. Maureen plays a pivotal role supporting clients on the frontline of our Health Justice Partnership, and also works across the organisation to ensure that all of RLC's legal services are accessible and culturally safe. 
Thanks to the funding support from City of Sydney, RLC was able to engage local Boomalli Aboriginal Artists Co-operative member Sharon Smith to create an original artwork designed to welcome people to our centre.  
Maureen explains that she wanted a work that would convey a sense of of both "lore and law," sending a message to communities that RLC is "a place where you are in safe hands", as well as a place that "provides good service, and an environment the allows freedom of expression and provides cultural safety." 
Sharon Smith, a descendant of the Wiradjuri tribe of western New South Wales, was born in Erskineville and now resides in Waterloo. 
Sharon has created an intricate work for RLC entitled 'Justice For All', which emphasises the significance of RLC as a meeting place and a welcoming and safe space for all members of our community.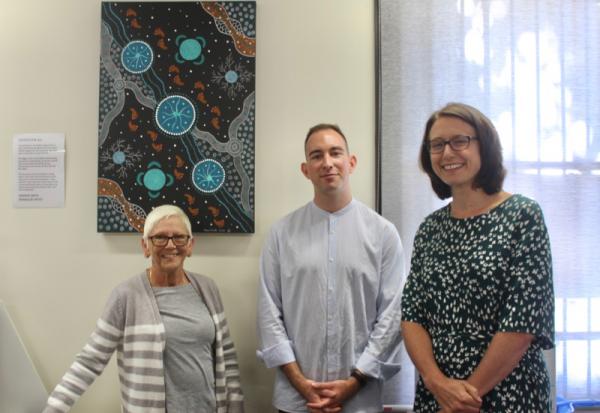 L-R: Boomalli artist, Sharon Smith with RLC Chair Kerry O'Brien; and former RLC Chair, Amy Munro, NAIDOC Week, November 2020.
Sharon's artist's statement explains more about the meaning and symbolism behind her work:
This painting for the Redfern Legal Centre (RLC) is about welcoming Aboriginal and Torres Strait Islander people into the community and giving them a safe place to access the RLC.
The bigger circle in the middle of the painting represents a meeting place at the RLC and the feet are our people travelling into the community to use the free services that the RLC offers. The two outer circles are women's resting places, the circles with the branches are the roots of our community and people.
I have used RLC a few times and I have found it to be a warm and friendly place so I hope when you look at the painting you will feel a warm and friendly place.
"This artwork is one of the many ways that RLC is able to signal our ongoing and deep commitment to strengthening meaningful and trusted relationships with First Nations people and organisations," RLC's CEO Joanna Shulman said.
"By prominently displaying Sharon's beautiful work in our centre, we are signalling to the communities we serve that RLC is a warm, welcoming and culturally safe place."
See also: Celebrating NAIDOC Week 2020