Media Release: NSW Government Supports Community Justice
Community Legal Centres NSW and Redfern Legal Centre welcome new funding and practices to support CLCs across NSW. Joint Media Release: 1 August 2018.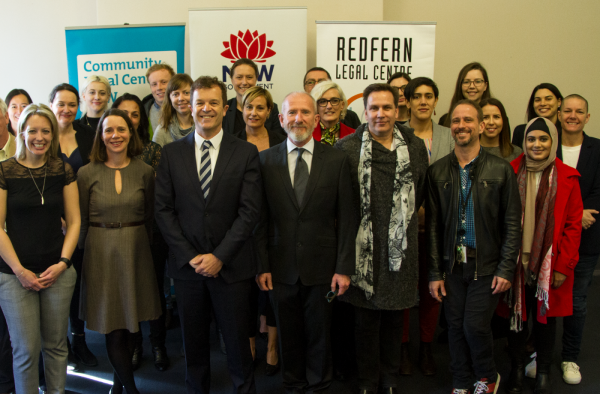 The community law sector in NSW welcomed today the NSW government's commitment to access to justice in NSW, through the announcement of new funding and practices based on the recommendations of the 2017 Review of NSW Community Legal Centre Services (CLC Review).
The announcement was made this morning at Redfern Legal Centre, in 1977 the first community legal centre to open in NSW, with Community Legal Centres NSW Executive Director Tim Leach joining Redfern Legal Centre CEO Jo Shulman and NSW Attorney General Mark Speakman.
"The NSW government clearly understands, appreciates and supports the important work done by community legal centres across NSW – both in terms of direct service delivery and strategic advocacy," Community Legal Centres NSW Executive Director Tim Leach said.
"Last year Attorney General Mark Speakman stepped in to save community legal centres in NSW from a funding crisis. Now we're seeing more strong leadership through providing stability and security for the future of the community law sector and the people we help.
"Community legal centres are independent organisations that provide free legal services to people and communities, at times when that help is needed most – and particularly to people experiencing economic, cultural and social disadvantage.
"When people have problems with their health, housing or income, getting the right support, including legal assistance, can stop these issues spiralling into a vicious cycle of vulnerability and disadvantage. That's what community legal centres are here for," he said.
Some of the key recommendations of the 2017 Review of NSW Community Legal Centre Services, supported by the NSW government:
Community legal centres should continue to provide their current broad range of legal assistance services, including direct service delivery and strategic law reform advocacy.
A general expansion of existing state funding for community legal centres to just under $12 million per year, to address critical areas of need and allow for funding of community legal services not currently funded by government.
Additional funding of $15.6 million over four years, announced in the 2018-19 NSW Budget, to implement the recommendations of the review, including supporting the sector through any changes required and developing an evidence base for future funding allocations with the Law & Justice Foundation of NSW.
Shifting to a minimum three-year funding cycle for community legal centres, providing community legal centres with the kind of stability required to deliver quality services and respond effectively to emerging areas of need in the community.
Government investment in the development of an outcomes measurement framework and the removal of unnecessary duplication in reporting in the legal assistance sector.
"These new resources will go a long way towards addressing unmet need for legal assistance in NSW," Mr Leach said.
"The report highlighted that there are gaps in service delivery, particularly in rural, regional and remote areas of NSW and there is a need for more legal assistance for Aboriginal and Torres Strait Islander people, children and young people, and people with disabilities.
"The areas of law seen as most pressing in terms of unmet need were in the areas of child care and protection, housing, credit and debt, domestic violence and consumer law.
"The legal assistance sector in NSW is multi-faceted and highly collaborative, and the CLC Review validates this as best practice.
"The community law network of almost forty community legal centres across NSW provides both generalist and specialist legal services. This includes advice, representation and community education, plus strategic advocacy to help governments and policy makers reform laws so that less people have legal problems in the first place. 
"Community Legal Centres NSW will continue to cultivate strong relationships with the NSW Attorney General, Aboriginal Legal Service, Legal Aid NSW, the Department of Justice, Law & Justice Foundation of NSW and many other organisations in the community, university and legal sectors – delivering real access to justice takes a community effort," he said.
Redfern Legal Centre Chief Executive Officer Jo Shulman said:
"Community legal centres are already stretched beyond capacity. New funding is required to  help the tens of thousands of people we have to turn away every year."
"The review highlights the efficiency of community legal centres and our benefit to people, communities and the government. Part of this is our unique ability to build strong partnerships and mobilise pro bono and volunteer support.
"Across NSW, over two thousand people volunteer with community legal centres every year, including students, practicing lawyers and other community members. At Redfern we estimate this support is worth over $2 million per year, more than four times our core government funding.
"Three-year funding cycles will make a big difference, allowing community legal centres to plan better and spend more time delivering services to people and communities who need it most.
"Funding security and increased resources will certainly make inroads into unmet legal need, particularly in the areas prioritised by government, ," she said.
According to the CLC Review:
Community legal centres are "independent community organisations that provide free information, legal advice and related services to people and communities facing economic, social or cultural disadvantage."
Community legal centres "play a unique and essential role" in the NSW legal assistance sector at "very low cost to government" and are "extremely efficient."
"There is significant unmet demand for legal assistance services that cannot be met without additional funding."
Legal assistance services benefit the wider community and government through ensuring that legal matters can be enforced, preventing civil problems from escalating into criminal matters, improving the efficiency of court proceedings and avoiding costs to other government services.
"CLCs should continue to provide the full range of legal assistance services. This includes information and advice, representation and community education, as well as strategic advocacy and law reform activities."
"CLCs must be adequately funded to provide legal assistance services to disadvantaged people, and to harness, co-ordinate and supervise pro bono and volunteer support."
"The (community legal centre) sector is supported by strong governance structures and delivers significant benefits to individual clients, the community and to government."
MORE INFORMATION:
Mark Riboldi - 0433 753 376