Media Alert: Truth Justice and the Redfern Way: A Fundraiser for Redfern Legal Centre
Book now for Redfern Legal Centre's big night of comedy!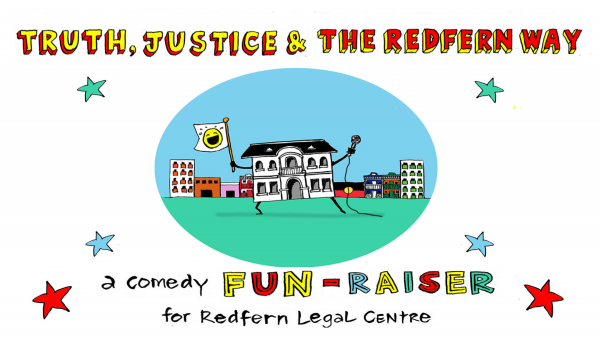 Get ready for a huge night of laughs when Australia's hottest comedians stand up for social justice at Giant Dwarf Theatre on Wednesday 8 May. All funds raised will support Redfern Legal Centre, ensuring that urgently-needed legal help remains accessible and free.
Local comedy stars coming out in support of the iconic legal centre include Tom Ballard (Tonightly with Tom Ballard), Jordan Raskopoulos (Axis of Awesome), Michael Hing (The Feed), Shiralee Hood (Deadly Funny), Nina Oyama (The Angus Project), and many more.
"We're thrilled to have Tom Ballard headlining for us, backed by a fabulously talented lineup of diverse stand-up artists," RLC CEO Joanna Shulman said.
"For over forty years, Redfern Legal Centre has been providing life-changing legal assistance to communities across New South Wales in areas such as tenancy, employment law, police complaints and credit and debt.
"Demand for our services continues to grow year on year. This fundraiser is a fun way the community can come together to ensure that free legal help remains available to all those who need it most."
Details:
WHAT: Truth Justice and the Redfern Way: A Comedy Fundraiser for Redfern Legal Centre
WHEN: Wednesday 8 May 2019, 7:30pm - 10:30pm
WHERE: Giant Dwarf Theatre, 99 Cleveland Street, Redfern
BOOKINGS: https://giantdwarf.com.au/events/rlc-2019
Courtyard bar opens at 6:30pm for a 7:30pm start. Pop in before the show for a drink and a mingle!
The full lineup is below:
Joe Shaffer (MC)
Tom Ballard (Headline)
Jordan Raskopoulos
Shiralee Hood
Michael Hing
Angus Thompson
Lauren Bonner
Oliver Twist
For media inquiries contact RLC Communications Manager Finn O'Keefe: finn@rlc.org.au, 02 9698 7277.
Download media alert