Boarding Houses and the Law: A legal guide for people in NSW
Boarding Houses and the Law is a legal guide for people living in boarding houses in NSW. It explains the ins and outs of the Boarding Houses Act 2012 as well as other laws that can apply to boarding houses.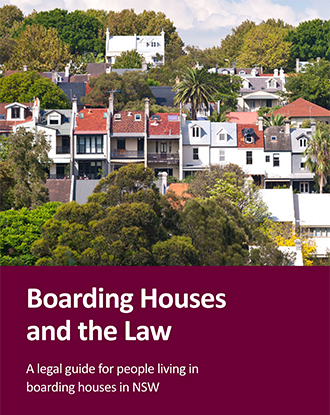 The resource covers things like:
What places are and aren't covered by the Boarding Houses Act
The differences between being a tenant and a boarding house resident
How consumer laws apply to Boarding Houses
The Register of Boarding Houses
The Occupancy Principles
Taking disputes to the NSW Civil and Administrative Tribunal
Sample letters and a number of useful resources and contacts.
Boarding Houses and the Law illustrates the weaknesses of many parts of the Boarding Houses Act. For example, residents are given a right to "reasonable" notice but this is difficult to enforce in practice given the short timeframes involved and the uncertainty of outcome at the Tribunal. There's also a distinct lack of penalties for proprietors who evict residents without reasonable notice.
Similarly, residents have the right to quiet enjoyment and to have reasonable repairs done but these rights are difficult to enforce when there is no protection against being evicted in retaliation for raising these types of issues.
 
Boarding Houses and Law is intended to help residents navigate these issues and give them information about all of their legal options.
Update
In July 2020, the law relating to uncollected goods changed. Parts of this resource may now be out of date.
The main changes include:
Changes to the types of notice and how much notice a proprietor must give you before disposing of your goods (Please see the table on Fair Trading's website HERE).
 
Applications now need to be made to the NSW Civil and Administrative Tribunal ('NCAT') rather than the local court.
 
The time limit to seek compensation for goods that have been damaged or destroyed is now 60 days (for claims up to $19,999) or 90 days (for claims of $20,000 or more).
The Tenants Union of NSW has a helpful factsheet for Tenants seeking further information about uncollected goods. It can be found HERE.
Download