Panel discussion: 'Does NSW have a strip search problem?'
On Thursday 16 May, Redfern Legal Centre will be holding a free panel discussion about the overuse of police strip searches in NSW.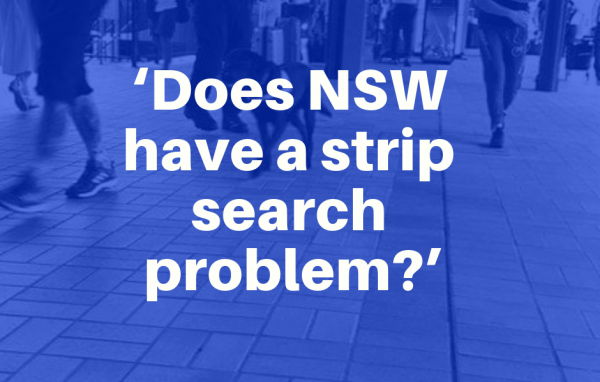 With the number of strip searches conducted by NSW Police over the past four years increasing by almost 50 per cent, Redfern Legal Centre believes it is vitally important that the public are informed about their legal rights and the campaign to change this harmful practice.
Details
'Does NSW have a strip search problem?'
Date: Thurs 16 May
Time: 6-7pm
Place: Redfern Town Hall, 73 Pitt St, Redfern
Speakers: Jane Sanders (Principal Solicitor, Shopfront Youth Legal Centre), David Shoebridge (NSW Greens MP), Samantha Lee (Head of Police Accountability Practice, Redfern Legal Centre)
Registration is free but places are limited. Click here to register now.
Emma's story
Emma was in her late teens when she was strip-searched at a music festival. After having been subjected to a full-body strip search, with her hands placed on a table and her back to police, not one illegal object or substance was found. Emma will never forget how humiliated and vulnerable she felt.
Emma says: "I don't tell many people about what happened because I feel very vulnerable, embarrassed and get teary.
"Over one year ago I was sexually assaulted and when I was being stripped searched I felt the same feelings I felt during that assault."
We need your help
Unfortunately, Emma's story is not unique. At Redfern Legal Centre, we hear many stories from people who have been subjected to an invasive strip search where police have made them feel humiliated, scared and overpowered. These people are reticent to approach a police officer ever again, even when they need help.
With your help, we can change strip-search laws in NSW and stop this harmful and humiliating practice. By donating now you can help resource our campaign ('Safe and Sound') that seeks to put an end to unnecessary strip searches in NSW.
Click here to support our campaign and donate to Safe and Sound.  
Visit www.safeandsound.org.au to learn more.