Court of Conscience: Community Legal Issues in Redfern
UNSW Law Society's annual social justice journal, Court of Conscience, has launched a special edition focusing on legal issues affecting the Redfern community.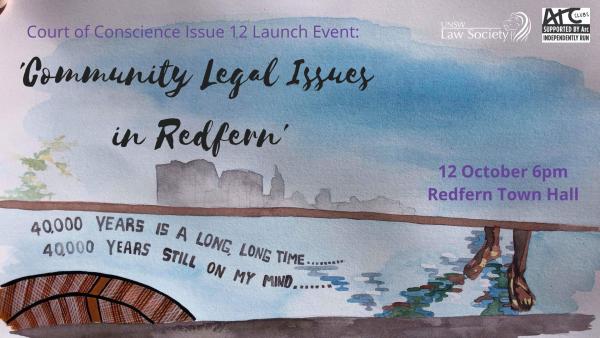 Edition 12: Community Legal Issues in Redfern was formally launched at Redfern Town Hall in October. RLC staff and associates submitted several articles to the edition.
The journal features nine authors considering a broad range of injustices affecting the Redfern community and threats to the area's rich history as a cultural, social and political hub for Aboriginal and Torres Strait Islander people.
The edition explores issues including  family law and policing to gentrification and historical continuities. The articles are presented in an array of different styles (editorials, academic articles and personal reflections), accompanied by the phenomenal artwork of local artist, Thea Perkins.
Contributors include:
Uncle Ken Canning – Poet/Activist
Trent Shepherd – Policy Adviser at the Federal Circuit Court
Dr. Thalia Anthony – Associate Professor at UTS
Prof. Juanita Sherwood – Deputy Vice-Chancellor (Indigenous) at USYD
Frances Gibson – Former Principal Solicitor at Redfern Legal Centre
Michael Siciliano – UNSW Law Student
Ned Cutcher – Senior Policy Officer at Shelter NSW
Dr. Vicki Sentas – Coordinator of Redfern Legal Centre Police Powers' Clinic
Joanna Shulman – Redfern Legal Centre CEO
These contributions are accompanied by a powerful foreword from former UNSW Law Dean, Professor David Dixon.
Download the edition