Theory of Change and Strategic Plan 2020–2025
At Redfern Legal Centre (RLC), we measure and track our performance against outcomes to hold ourselves accountable for the impact we have on people and communities. 
RLC is committed to providing integrated and effective responses to the needs of people experiencing disadvantage, and to driving innovation and change within the legal system. 
Since 2019, RLC staff and board have been engaged in an intensive strategic planning process to create a roadmap that will guide our path to achieving this goal. 
We engaged Social Ventures Australia, and received support from Laurel Draffen of Community Legal Centres NSW and Nexus Consulting, to lead a series of planning discussions across all areas of our organisation, allowing us to develop a robust outcomes framework underpinned by a Theory of Change and strategic plan.
The document downloadable below is a high-level summary that outlines the core principles that guide our work, and provides a snapshot of our Theory of Change for the organisation as a whole, and each of our specialist legal practice areas.
Our 2020–2025 Strategic Plan is grounded on the belief that by achieving our goals, we will positively impact the people and communities we work with.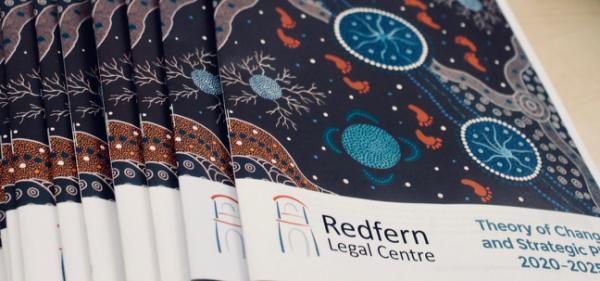 Our 2020–2025 Strategic Goals
In 2020-2025 across all our work we will focus on:
Service operations
Strengthen our current service delivery and focus on addressing unmet legal need
Measurement and evaluation
Measure and evaluate our services
Collaboration and partnerships
Pursue effective partnerships to better serve our clients and communities
Growth and sustainability
Continue to diversify income sources and prioritise the wellbeing of staff and volunteers.

Our Theory of Change
At Redfern Legal Centre, we believe that:
Because …
There are gaps and flaws in the design of services, policies, and laws in the legal system that are failing people and communities
People experience inequality and injustices, and
Marginalised communities lack a voice.
We respond by …
Providing free legal services including legal advice and representation and referrals to provide holistic solutions
Engaging in policy and law reform work to change the system, and
Empowering and building capacity in the community and within the legal profession through legal education and providing an effective volunteer program.
Which results in …
Increased access to justice for people experiencing disadvantage
Increased capacity in our community to understand and address legal issues
Integrated and effective responses to the needs of people experiencing disadvantage
Empowered and resilient individuals and communities
Systemic injustices being addressed.
Ultimately this will lead to …
Equal access to justice
A just and fair legal system
Improved wellbeing for Individuals and communities.