Open Letter: Legal profession calls for legislative change to address the rise in police strip searches in NSW
Representatives from over 50 legal organisations, including prominent members of the legal profession, have signed an open letter to the NSW Police Minister outlining the harmful impacts of strip searches. 
Signatories to the letter, including former NSW Director of Public Prosecutions Nicholas Cowdery QC and former Chief Justice of the Family Court, Hon Elizabeth Evatt AC, have expressed grave concerns about police strip search activity in NSW following the release of police data which shows that the majority of strip searches undertaken in New South Wales are being conducted on young people, including children as young as ten.
Redfern Legal Centre, who instigated the open letter, says this new data must be acted upon immediately. (See: RLC media release)
Read the open letter below and download the strip search data here.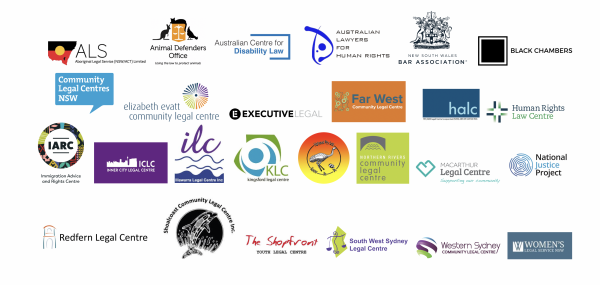 Open Letter
Hon. David Elliott MP
Minister for Police and Emergency Services
Dear Minister,
We are writing to outline our concerns about the rise in the use and application of strip searches in New South Wales.
Various legal services have observed an increase in the use of strip searches where police have failed to ensure the preservation of privacy and dignity as required by law.
The application and overuse of strip searches in NSW has also led the Law Enforcement Conduct Commission (LECC) to commence an investigation into the use of police powers to conduct strip searches under the Law Enforcement (Powers and Responsibilities) Act 2002 (NSW) (LEPRA).
Recent figures reveal the number of strip searches in NSW has increased from 3,735 in 2014-15 to 5,483 in 2017-18. This is an increase of nearly 47 per cent.
Outlined below are our key concerns about current strip search practice in NSW:
1. A child as young as ten years of age and up to 18 years can be required to take off all their clothes in front of two adult police officers in an unfamiliar environment. The law fails to reflect child protection principles.
2. For those who have been exposed to child or adult sexual abuse, sexual assault or domestic violence a strip search can be a trigger for further trauma.
3. A strip search may be requested by a junior officer without requiring any authorisation from a more senior officer.
4. The rise in the incidence of strip searches may be an indication that such searches are being conducted without considering if the search is 'necessary for the purposes of the search and that the seriousness and urgency of the circumstances make the strip search necessary' (s 31(b), LEPRA).
5. Strip searches are occurring behind 'privacy screens' at train stations and other public areas which may not comply with the legislative requirement that a strip search be conducted in a 'private area'.
6. Strip searches are being conducted on the street and in public spaces. There has been recent video footage of this occurring: see https://www.sydneycriminallawyers.com.au/blog/aboriginal-elder-strip-sea... and https://thebigsmoke.com.au/2019/04/10/nsw-police-conduct-yet-more-public...
7. The current law does not allow for transgender, intersex and gender diverse peoples to choose the preferred gender of the officer/s to be present during a strip search. The current law only allows for a search to be conducted by an officer of the same sex as the person searched.
We believe legislative change, along with cultural and policy change, may be required if the above concerns are to be addressed.
To commence the discussion about legislative change, Redfern Legal Centre has commissioned a report into strip search law and practices by the Law School at the University of New South Wales. The report will be published in June and will include some key legislative recommendations to amend strip search laws in New South Wales. The report aims to propose improvements to the law by ensuring better safe guards for members of the public and better legislative guidance for police.
Once the report is published, we hope to present the Minister with a copy and discuss ways we can work together to improve strip search laws in New South Wales.
We the undersigned thank the Minister for considering our concerns.
Signatories
Elizabeth Evatt AC
Former Chief Justice of the Family Court
Former member of UN Human Rights Committee
Janelle Clarke
A/CEO
Aboriginal Legal Service NSW/ACT Ltd
Jane Sanders
Principal Solicitor
The Shopfront Youth Legal Centre
Joanna Shulman
CEO
Redfern Legal Centre
George Newhouse
Director
National Justice Project
Nicholas Cowdery AM QC
Visiting Professional Fellow
Faculty of Law
University of NSW
Jonathon Hunyor
CEO
Public Interest Advocacy Centre
Kerry Weste
President
Australian Lawyers for Human Rights
Professor Eileen Baldry
Professor of Criminology
University of NSW
Tim Leach
Executive Director
Community Legal Centres NSW
Andrew Stone SC
NSW President
Australian Lawyers Alliance
Helen Campbell OAM
Executive Officer
Women's Legal Service NSW
Edwina MacDonald
Legal Director
Human Rights Law Centre
Professor David Dixon
Professor
Faculty of Law
University of NSW
Malcolm Ramage QC
Forbes Chambers
Vasili Maroulis
Managing Principal Solicitor
Marrickville Legal Centre
Professor Gail Mason
Law School
University of Sydney
Chris Figg
Director
Ngiyani Pty Ltd
Ramesh Rajalingam
Barrister
Black Chambers
Felicity Graham
Barrister
Black Chambers
Andrew Boe
Barrister
Black Chambers 
Jane Titterington
Principal Solicitor
Mid North Coast CLC 
Peter O'Brien
Principal
O'Brien Solicitors 
Anna Kerr
Principal Solicitor
Feminist Legal Clinic Inc.
Professor Jill Hunter
Faculty of Law
University of NSW 
Julie Stubbs
Centre for Crime Law and Justice
University of NSW
Pearl Beaumont
Sole Practitioner
Jane Bolitho
Senior Lecturer in Criminology
University of NSW
Cara Feiner
Barrister
Black Chambers
Vicki Harding
Centre Director
Inner City Legal Centre
Helen Gibbon
Lecturer Faculty of Law
University of NSW
Dr Andy Kaladelfos
Lecturer in Criminology
University of NSW
Professor Luke McNamara
Co-Director, Centre for Crime, Law and Justice
Faculty of Law
University of NSW 
Melanie Schwartz
Senior Lecturer
Faculty of Law
University of NSW
Mehera San Roque
Senior Lecturer
Faculty of Law
University of NSW
Amanda Porter
Senior Lecturer
Faculty of Law
University of NSW
Louise Boon-Kuo
Lecturer
Law School
University of Sydney
Jane Moore
Principal
Jane Moore Lawyer & Mediator
South Australia
Professor Alex Steel
Faculty of Law
University of NSW
Professor Annie Cossins
Professor of Law & Criminology
Faculty of Law
University of NSW
Dr Eugene Schofield-Georgeson
Lecturer
Faculty of Law
University of Technology Sydney
Stephen Lawrence
Barrister
Black Chambers
Hilary Kincaid
Principal Solicitor
Inner City Legal Centre
Ryan Coleiro
Clerk
Forbes Chambers
Michael Burke
Barrister
Forbes Chambers
Georgia Lewer
Barrister
Forbes Chambers
Emma Golledge
Director
Kingsford Legal Centre
Mark Patrick
Managing Principal Solicitor
Australian Centre for Disability Law
Stacy Treloar
Chief Executive Officer
Far West Community Legal Centre Ltd
Monique Hurley
Lawyer
Human Rights Law Centre
Robert Pelletier
Executive Officer
Macarthur Legal Centre
Associate Professor Tyrone Kirchengast
Law School
University of Sydney
Ken Beilby
Principal Solicitor
Northern Rivers Community Legal Centre
Hament Dhanji SC
Barrister
Forbes Chambers
Mark Grierson
Chief Executive Officer
Advocacy Law Alliance Inc
Truda Gray
Centre Coordinator
Illawarra Legal Centre
Arlia Fleming
Managing Principal Solicitor
Elizabeth Evatt Community Legal Centre
Sabina Wynn
Director
Immigration Advice Rights Centre
Alexandra Stratigos
Principal Solicitor
HIV/AIDS Legal Centre
Tara Ward
Executive Director/Lawyer
Animal Defenders Officer Inc.
Nick Sabel CEO
Western Sydney Community Legal Centre
Effi Vassiliadis
Acting Executive Officer
South West Sydney Legal Centre
Justine O'Reilly
Principal Solicitor & South Coast CLSD Co-Coordinator
Shoalcoast Community Legal Centre
Tim Game SC
President
New South Wales Bar Association
Downloads