New Family Advocacy and Support Service (FASS) launched
On 17 May, Susan Smith, the Coordinator of RLC's Sydney Women's Domestic Violence Court Advocacy Service (Sydney WDVCAS), spoke at the launch of the new Family Advocacy and Support Services (FASS) program.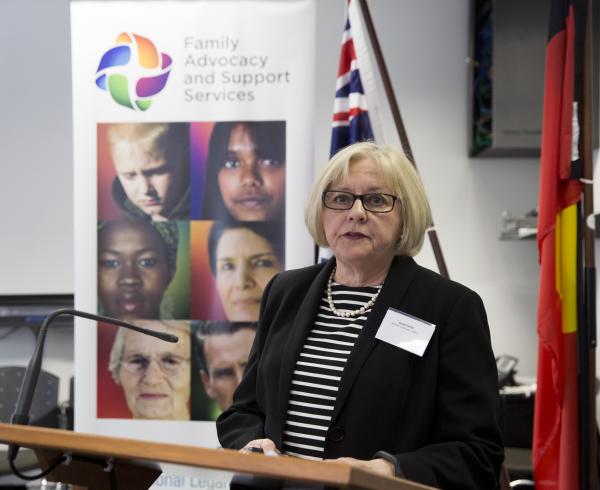 Susan Smith, Coordinator of Sydney WDVCAS speaking at the NSW FASS launch, Parramatta Family Court of Australia, May 2017. 
Other speakers and guests at the launch included the Federal Attorney General, the Hon. George Brandis QC and senior judges from the Family Court of Australia and Federal Circuit Court of Australia.
Funded by the federal government, the FASS is a national scheme that emerged out of the 2016 National Summit on Reducing Violence against Women and their Children. It was formed in recognition of the fact that victims of family violence require a combination of social support, as well as legal help, when navigating the family courts system.
In NSW, the FASS will be provided by Legal Aid and will operate at the Parramatta, Sydney, Newcastle and Wollongong family law courts. At all four NSW courts, Legal Aid solicitors will provide legal assistance to family members affected by family violence, and the WDVCASs will deliver social support services to women. Services for men will be provided by Relationships Australia. RLC's Sydney WDVCAS will deliver the social support service at the Sydney Registry.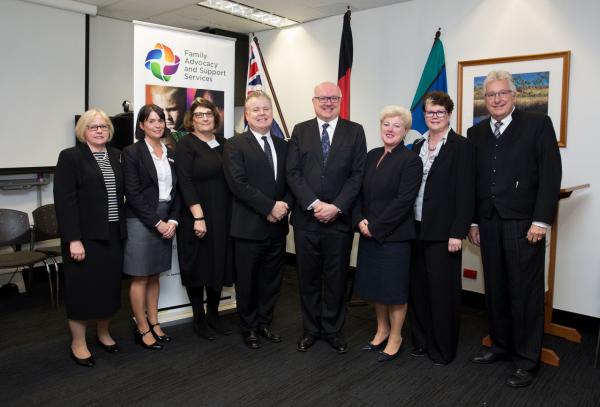 L-R: Susan Smith, Solicitor and Coordinator, Sydney Women's Domestic Violence Court Advocacy Service; Susannah O'Reilly, Solicitor in Charge, Domestic Violence Unit, Legal Aid NSW; Michelle Jones, Manager, Women's Domestic Violence Court Advocacy Program, Legal Aid NSW; Richard Funston, Deputy CEO, Legal Aid NSW; Senator the Hon George Brandis QC, Attorney-General; Kylie Beckhouse, Family Law Director, Legal Aid NSW; Judge Louise Henderson, Federal Circuit Court of Australia and The Hon Justice Garry Foster, Family Court of Australia.
Speaking at the launch, RLC's Susan Smith highlighted the importance of the FASS partnership to protect the needs of family violence victims. 
The FASS workers will provide trauma-informed and high quality social work services to families affected by family violence. They will screen victims for their social needs and provide effective referrals to specialist support, including housing, counselling, health and other diverse services. The FASS will work with clients to address child protection issues. It will provide referrals to specialist services for clients from Aboriginal and Torres Strait Islander and multicultural and LGBTI communities.
The FASS will also conduct risk assessments to identify those clients who are at serious threat. Support workers will then prepare safety plans to address any risks, taking into consideration the client's safety at home, in the community, and at court.
Importantly, the FASS will help bridge the gap between State and Commonwealth legal systems and processes, including family law, family violence and child protection.
The WDVCASs are ideally placed to provide this service as they already see women in local courts at a time of crisis. By creating this link, we will reduce the need for clients to re-tell their story, and with our client's permission, we can ensure relevant information can be passed from one jurisdiction to another.
Further information on the Family Advocacy and Support Service​ is available here or by ringing (02) 9219 6300.​