RLC's Green Room is open for learning!
In March, we officially launched our brand new education hub at Redfern Legal Centre with a series of new weekly student clinics.
'The Green Room' (named after the furniture generously donated to us by Good360) is our new space for structured learning activities at RLC. Here we hold a range of education sessions, including our community advice nights, community legal education sessions and our Legal Clinics for students, held in partnership with select universities.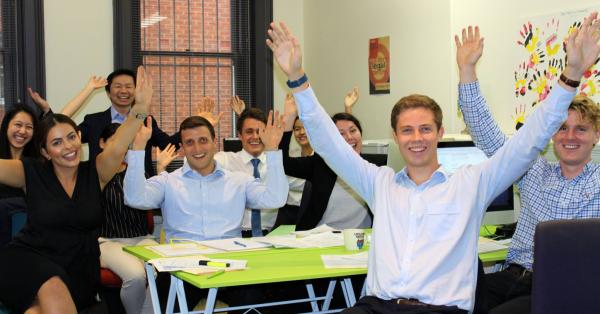 There are currently three weekly Student Clinics running at RLC, with a fourth commencing next semester.
During autumn semester, ten students from the University of Technology, Sydney are attending our first International Student Clinic, part of the graded UTS law subject, Local Internship. Through a weekly session held each Wednesday between 2–9pm,  these students are receiving hands-on experience with real cases, combined with structured reflection time to deepen and broaden their knowledge of law. 
We are also holding a weekly Police Powers Clinic on Fridays, in conjunction with UNSW Sydney's Law Faculty. 
In this Clinic, eight UNSW students are assisting RLC solicitors in advising clients about the process of making complaints against the police, as well as conducting work on research, policy and community legal education. Through a combination of casework, advocacy and law reform projects, and a weekly seminar, this program aims to strengthen students' practical skills in research, writing, advocacy, problem-solving, team work and independent judgment.
A Employment and Discrimination Law Clinic is also currently open for enrolment through the University of Sydney, to be held at RLC on Tuesday afternoons from 2pm–9pm.
Under the supervision of RLC's Employment and Discrimination solicitor, Dr. Linda Tucker, this elective will expose select students to casework and policy and law reform initiatives being undertaken by RLC in the areas of employment and discrimination law. Students will also be given the opportunity to critically analyse the relevant legal issues.
This year we also commenced offering eight places to students as part of the the Sydney Law School Social Justice Program during Semesters 1, 2 and the Summer Intensive of 2017-2018. This program offers eligible students  the opportunity to undertake up to two units [12 credit points] gaining experience in social justice initiatives, within a clinical placement under the supervision of a range of social justice partners, including RLC.
We're proud to be carrying out these important education initiatives, as a way of supporting the growth of the next generation of legal professionals.
Further information
UNSW Police Powers Clinic 
Enrolments for Round 2 Winter and Semester 2 2017 open 16 May and will close 29 May 2017. 
UTS Local Internship
Enroments for Spring semester closed on May 8 2017.
USYD Redfern Legal Centre Clinic (Undergrad students) 
USYD Redfern Legal Centre Clinic (Juris Doctor students) ​
Enrolments now open. Will close 2 June 2017.
USYD Sydney Law School Social Justice Clinic 
Social Justice Legal Clinic A enrolments currently closed. Clinic B enrolments TBA.