Resources: Police powers and protests: what are your legal rights?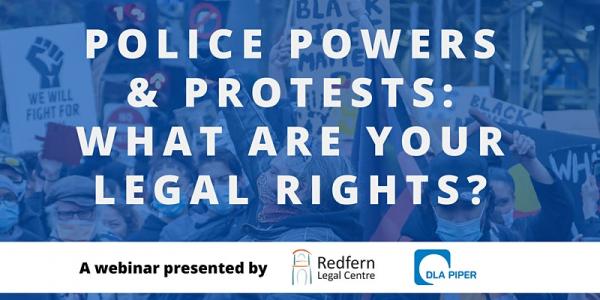 This webinar was presented on 9 December 2020. The recording is below.
Protests have been occurring across the country – Black Lives Matter, climate change, changes to education, and more – with many events having a heavy police presence.
This webinar is for anyone who has attended a protest – or is considering attending one – and wants to know more about their legal rights. Learn practical tips and answers to the following questions...
What are your legal rights if:
you are protesting in a group of more than 20?
you are told to move on by police?
you are arrested?
force is used against you?
you are under 18?
you are an Aboriginal and/or Torres Strait Islander?
you are kettle sprayed or capsicum sprayed?
Facilitated by Samantha Lee, Police Accountability Solicitor at Redfern Legal Centre.
Speakers:
Felicity Graham: Barrister, Blackstone Chambers, and former Trial Advocate for Aboriginal Legal Service
Jane Sanders: Principal solicitor of the Shopfront Youth Legal Centre.
Peter O'Brien: Principal Lawyer and founder of O'Brien Criminal and Civil Solicitors
For further info, see RLC fact sheets:
Presented by Redfern Legal Centre and DLA Piper.
​This webinar is not a substitute for legal advice.
RLC runs a free statewide police complaints service. If you need legal advice, contact us at www.rlc.org.au/contact.
Help us maintain free legal support to communities across NSW during COVID-19. Donate to RLC
Photo credit: Matt Hrkac (CC by 2.0)