RLC in the Media: New legal service tackles insidious abuse
Redfern Legal Centre has established a service to combat the "insidious" issue of financial abuse within intimate relationships.
Steven Trask reports for AAP
Click here
Contact the Financial Abuse Legal Service NSW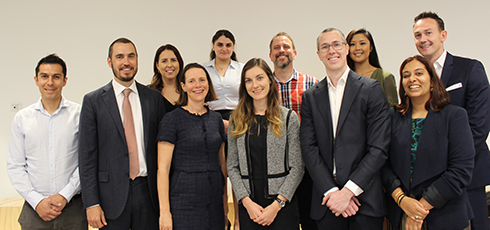 RLC staff and Financial Abuse Service NSW partners celebrate the launch of the new service
The Financial Abuse Service NSW was launched on Thursday to tackle what Redfern Legal Centre says is a growing problem – particularly for women.
RLC lawyer Laura Bianchi says financial abuse is an "insidious" form of manipulation.
"Over the past few years we identified the issue through our credit and debt help services," she told AAP.
"We saw a lot of women in particular who had financial issues stemming from a history of domestic violence and we recognised there was a need for this."
Sandra, whose name has been changed to protect her identity, approached the Redfern Legal Centre after getting financially trapped in a violent relationship.
"Not only was I emotionally and psychologically broken, I was trapped financially by the relationship," she said.
"What the financial abuse service has taught me is that change and empowerment is possible."
The Financial Abuse Service NSW – which will provide free legal support – is being supported by the federal government and corporate partners.
Read the full article here (The Australian, 5 December 2019)
This article also appeared in:
​Herald Sun (5 December 2019)
News.com.au (5 December 2019)
Daily Telegraph (5 December 2019)
Yahoo News Australia (5 December 2019)
The Advertiser (5 December 2019)
The Mercury (5 December 2019)
NT News (5 December 2019)
The Weekly Times (5 December 2019)
Townsville Bulletin (5 December 2019)
Morgans (5 December 2019)
Yahoo News NZ (5 December 2019)
Gold Coast Bulletin (5 December 2019) 
This is Money UK (5 December 2019)
Adelaide Now (5 December 2019)