Protect Our Communities: No Evictions During a Health Crisis
In March, RLC signed statement coordinated by the Tenants' Union of NSW, endorsed by around 100 organisations calling on Commonwealth, State and Territory governments to ensure no-one is evicted during the coronavirus crisis.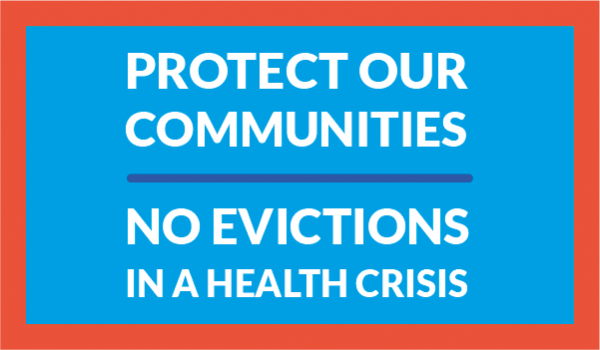 The COVID19 epidemic is causing significant economic harm through the cancellation of events, the disruption of supply chains, and a general reduction in public activity and commerce. Many workers, especially contractors and casual workers, are facing sudden unemployment and lost or reduced income. Many will fall into rent arrears and be at risk of termination and eviction.
People facing eviction are less able to take actions required to minimise transmission of COVID19, particularly where they become homeless, and will become more vulnerable to illness.
An eviction into homelessness at this time puts great pressure on families and communities in overcrowded homes, crisis accommodation and people sleeping rough. Support services will already be struggling to deal with increased demand and as a community, we cannot afford to make it worse.
The joint statement calls on the Australian Commonwealth, State and Territory governments to ensure no evictions happen during this crisis.
Read more and sign the joint statement here
Moratorium on evictions announced
On 29 March, the Prime Minister announced that Australia's state and territory governments have agreed to a 6-month moratorium on evictions for people experiencing financial hardship. What this means in practice is currently unclear, and further details are anticipated soon.
The Tenants' Union of NSW recommends that renters who receive an eviction notice do not move out until the National Cabinet has made its announcement.  
Update: on 13 April the NSW Government confirmed they are implementing a six-month moratorium on evictions where the tenant is in rental arrears because of financial hardship amid the COVID-19 crisis, and will be delivering a $220 million package aimed at providing relief for residential renters. Read more here.
Take action
It's‌ ‌now‌ ‌up‌ ‌to‌ ‌State‌ ‌and‌ ‌Territory‌ ‌Governments to implement what was decided at last night National Cabinet Meeting.‌ ‌
Can you write to your Housing Minister? Let them know they should be looking to Tasmania's example and making sure the Eviction Moratorium stops all evictions, for all renters. There‌ ‌should‌ ‌be‌ ‌no‌ ‌evictions‌ ‌in‌ ‌a‌ ‌health‌ ‌crisis.‌ ‌
In addition to sending an email, call your State Housing Minister right now to congratulate them on putting in place an Evictions Moratorium, urging them to make sure it covers all evictions and all renters so that no-one loses their home during this crisis.
VIC: Call Marlene Kairouz MP on (03) 8685 1555 (Or you can call her electorate office at (03) 8361 7133)
NSW: Call Kevin Anderson MP on (02) 8574 5550 – and please let us know if you got through to his office. (You can also try his electorate office at (02) 6766 1422.)
WA: Call Peter Tinley MLA on (08) 6552-5300
Qld: Call Mick de Brenni on (07) 3719 7270 – and please let us know if you got through to his office. (You can also try his electorate office at (07) 3414 2110.)
SA: Call Vickie Chapman MP on (08) 8207 1723 – and please let us know if you got through to her office.
TAS: Call Elise Archer MP on (03) 6165 7730
ACT: Call Gordon Ramsay MP on (02) 6205 2615
NT: Call Natasha Fyles MP on (08) 8936 5610
See also
Renting and Coronavirus Statement (15 June 2020)
Download