A holistic approach to wellbeing: The Health Justice Partnership
Redfern Legal Centre is very proud of The Health Justice Partnership (HJP), which provides access to justice for vulnerable patients in the healthcare system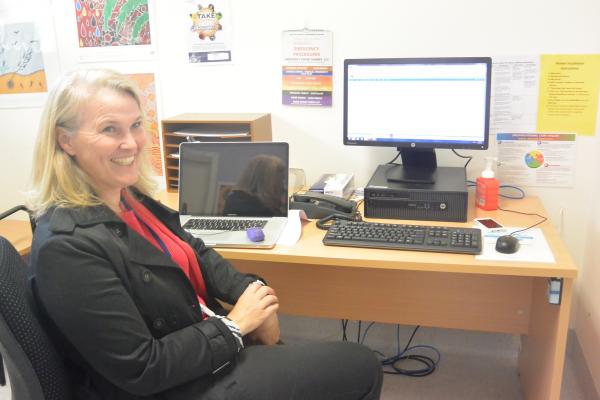 RLC solicitor Sue-Ellen Hills at Royal Price Alfred Hospital
Health and legal issues often go hand in hand.
A woman hospitalised with domestic violence injuries may need legal help to get an AVO. Someone experiencing drug and alcohol issues could be self-medicating due to a debt they don't know how to deal with. The housing problems of a parent with a sick child could affect their ability to bring their child home.
Compound issues like these can't be solved with medical or legal help alone. That's why the Health Justice Partnership was born.
The Health Justice Partnership (HJP) between Redfern Legal Centre (RLC) and Sydney Local Health District (SLHD) is a NSW-first model which provides access to justice to vulnerable patients.
This innovative model brings legal support within the hospital walls, to ensure the most vulnerable people have access to legal help when they need it most.
Two days per week RLC solicitor Sue-Ellen Hills works with staff from the Royal Price Alfred Hospital to provide onsite legal support to patients.
Sue-Ellen Hills and Elaine Doherty, Nursing Unit Manager, Royal Prince Alfred Hospital, work together closely to support patients with complex health and medical needs
HJP is an early intervention program, with a two-fold approach. The RLC solicitor teaches hospital staff to identify legal issue for patients so they will know when to refer patients to HJP. Then she can assist patients to solve their legal issues and advocate for them to improve their situation.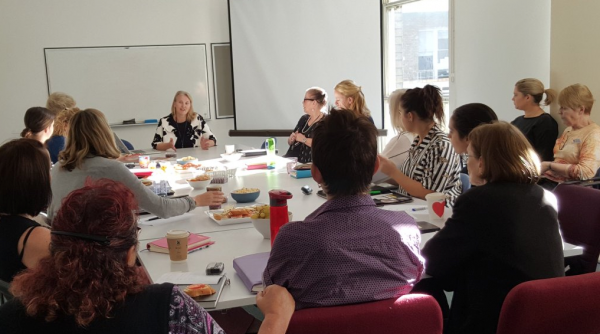 Sue-Ellen training social workers at RPA – photo courtesy Tessa Boyd-Caine
RLC's CEO, Joanna Shulman is very proud of what the HJP has achieved so far.
"The HJP enables the respective professions to work together to improve the holistic heath of patients. This not only helps individuals but alleviates the strain on the healthcare and legal systems," she said.

"In six months alone we assisted 62 people, 80% of which would not have accessed legal advice otherwise. The HJP works by not just providing legal assistance to patients, but to also train health care staff in identifying health harming legal needs."
This is the first hospital-based, HJP in NSW. Until June 2016, the service is part- funded by the Gandevia Foundation. Government budget shortfalls mean HJP relies on further external funding to continue providing this unique service.
Medical Journal of Australia covered the HJP in June 2016. Read the article here
The Law Society of NSW Journal featured an article in August 2016 on the HJP and solicitor, Sue-Ellen Hills.
If you would like to join the team at RLC by donating to this innovative program click here: https://www.givenow.com.au/redfernlegalcentreappeal
An evaluation of RLC's HJP was conducted in late 2015.